Best Natural Deodorants for Men
We have tested dozens of organic deodorants for several months to select the best five ones. Speaking of the winner, no doubt, we would recommend you Schmidt's Natural Deodorant because of its great properties and excellent natural ingredients.
The Winner
sodium bicarbonate aluminum free,
good smell suitable for both men and women,
perfectly works to eliminate odor and wetness,
and many other benefits which make this organic deodorant the best on the market.
Body odor serves as a massive turn-off for almost everyone. In order to avoid the humiliation and embarrassment that body odors can cause, the use of deodorants has become an escape route for many men.
However, many deodorants on the market are formulated with a number of toxic substances such as aluminium and this is why natural deodorants which are a lot safer have become quite popular. To help you select the best natural deodorants for men, we have included some tips and factors that would help you in making a great choice.
More importantly, we went through the products available and have selected some of the best on the market, let's take a close look at them.
---
Top 5 Natural Deodorants Comparison
---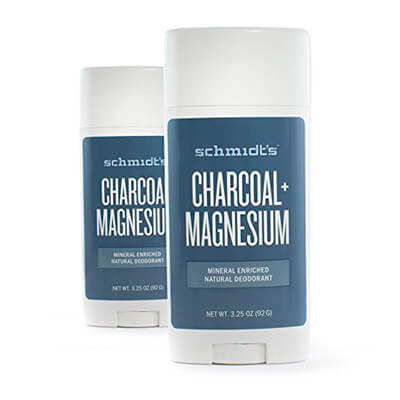 Schmidt's is one of the biggest brands on the market and is very much trusted by a lot of men. Apart from the fact that it is totally free of chemicals, it also has a very nice smell which is not typical of most natural deodorants on the market. It is also an aluminium free men deodorant.
Key Features
Free of aluminium, propylene glycol, phthalates, parabens and a number of other unsafe chemicals
It contains certain organic constituents that help to prevent odor, absorb moisture, and moisturize the skin
It usually comes in form of a cream which makes it easy to spread on the palm and apply on the body
Value
The key value that this deodorant offers even before the financial aspect is the fact that it is completely natural. In terms of cost, Schmidt's is very affordable and can fit into your budget very easily. Also, it comes with a number of other great features thanks to its constituents.
PROS:
It has a very nice scent composing of lavender and sage
It is free of aluminium, parabens and other dangerous chemicals
It absorbs moisture produced by the body and gets rid of odors
CONS:
Some users have complained about the cream requiring kneading before use
Some users with very sensitive skins also claim to have gotten burns from this product
Summary
Schmidt's natural deodorant has been on the market for a very long time and is trusted by a lot of men because of its efficacy. It is also pretty affordable and lacks all the dangerous chemical-based ingredients that you want to avoid. You want something good, Schmidt's Natural Deodorant might just be all you need.
---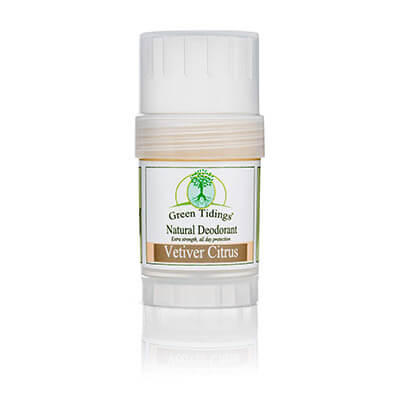 Just like the name denotes, this deodorant is a 100% natural and does not contain any of the chemicals that can be found in many chemically synthesized deodorants. Although it does not have an added scent, most of the ingredients within it have their own unique fragrances which makes it smell pretty good.
Key Features
It is made from completely natural ingredients without addition of even the smallest chemical component
It contains baking soda which absorbs perspiration and has antibacterial properties
It has antiseptic properties too which are responsible for helping to treat acne and get rid of other skin irritations
Value
Its all-natural based feature makes it great for those who would rather go for natural substances and also guarantees safe application on the skin. In other words, you don't have to bother about chemicals hurting your skin. For its price, this deodorant is a steal.
PROS:
It contains organic lavender essential oil that helps in treatment of acne and some other skin irritations
Composes baking soda that effectively absorbs perspiration and serves as an antibacterial
It is also very easy to apply and does not require kneading between the hands
CONS:
Some users have reported the appearance of sores and bumps on their skins after use
Some users have also claimed to have a rash after using it for some time
Summary
For every conscious natural deodorant lover, Green Tidings All-Natural deodorant offers great value and guaranteed effectiveness. With a base of all natural ingredients alongside other specially included ingredients like baking soda, this deodorant is one amazing product.
---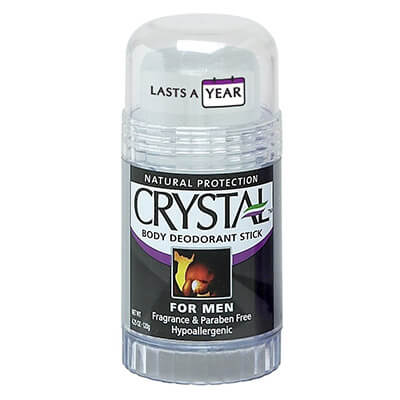 Crystal Deodorant for men possesses a unique natural mineral salt which serves as a guard against the bacteria that causes the odors in the armpits. The effect of the mineral salt is so profound that Crystal Rock deodorant is used in treatment of certain ailments.
Key Features
Contains natural mineral salt or potassium alum that battles odor causing bacteria
Comes in form of a stick that only required water to be moisturized before use
Its effects last very long on the body; sometimes up to 18 hours
Value
The immense effect this deodorant cannot be overstated. Thanks to the fact that all you have to do is wet the stick each time you want to make use of it, you can rest assured that Crystal deodorant for men lasts for a very long time. It is also very affordable.
PROS:
The deodorant stick lasts for a very long time sometimes up to one year for some users
Very easy to use and does not stain clothes after application
Contains natural salt which is pretty effective in deodorants
CONS:
It has some aluminium content which is not great for the skin
Some natural deodorant users prefer liquid or cream instead of having to wet this stick all the time
Summary
For a deodorant, this one sure does last long and has been reported to last for as long as one year in some cases. It is also very much affordable and despite the minute aluminium content in this deodorant, it makes for a very effective one all the same.
---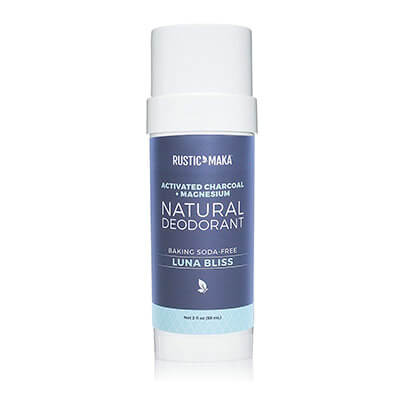 This organic deodorant for men is notable for lacking a number of irritable ingredients found in some other natural deodorants. It is made from entirely natural ingredients and comes with no scent. One reason that most men love this deodorant is the fact that it is great for men who have very sensitive skins.
Key Features
It is mainly composed of Magnesium Hydroxide i.e the key ingredient in this deodorant is magnesium hydroxide
It serves a number of other health related functions including protein synthesis and energy production for the body
It comes.in a 2.7oz container and may last as long as 3 months
Value
Basically, most natural deodorants come across as pretty affordable for the average man. Therefore the actual value lies in the extra features and functions that most of them have and can perform. One major feature that this deodorant has is an absence of baking soda which could irritate sensitive skins. It is also very affordable.
PROS:
It's is the most appropriate deodorant for sensitive skin and prevents irritation and itching in users
Notwithstanding the quantity used, it does not stain the clothes
It is free of dangerous chemicals such as aluminium and parabens
CONS:
Some users have complained about this deodorant having a certain odor
Some users have also claimed that the deodorant didn't work for them
Contains natural salt which is pretty effective in deodorants
Summary
If you have very sensitive skin and you are having difficulty getting a natural deodorant that would work for you, then your worries are over. According to most of the reviews, almost every buyer claimed that there was no skin reaction to applying this deodorant. Its price is also really great for its features.
---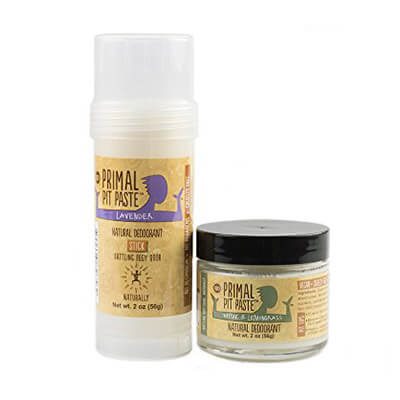 One very unique feature about this deodorant is that it is formulated to deal with heavy body odors such as those that athletes might tend to have. Similarly, it is formulated from only natural ingredients due to how dangerous chemical-based ingredients can be. It also contains some organic constituents that help it perform optimally.
Key Features
It has a scent which mainly comes from the natural ingredients it is made with
The major ingredient in this deodorant is caustic soda
It contains organic arrowroot that helps to keep the armpits dry throughout the day
Value
Primal Pit Deodorant contains a very large number of extra ingredients that aim at making a man look good and smell better. It comes with organic oils like sunflower oil, olive oil and coconut oil amongst others. More importantly, it is crazy affordable and lasts for quite a while too.
PROS:
This deodorant is not restricted to any gender and, therefore, can be used by both men and women
The natural ingredients constituents give the deodorant a fresh and refreshing scent that isn't very intense
Primal Pit deodorant comes in both cream and stick packagings
CONS:
Some users with sensitive skins have complained about skin reactions to the baking soda constituent
Some users also claim that the stick version if this deodorant cause ingrown and infected hair
Summary
A notable feature of this product is the amount of additional ingredients that come with it. Here, we're referring to the organic oils and butters that were included in this product. The fact that it is also an aluminium free antiperspirant makes it a great choice anytime. With this product, you should derive all the satisfaction you want.
---

Buyer's Guide
When it comes to purchasing certain products such as deodorants, most men may not be very thorough. This is because most men assume that all they need is to get some deodorant that works for them and as long as it performs the basic function of getting rid of body odor, then they are good. This is a pretty wrong misconception. Selecting a deodorant goes beyond going for one that simply "works". In some cases, although the deodorant might appear to work well on the surface, it could be making some damage below the surface. Similarly, most deodorants on the market are produced using some very dangerous chemicals such as Aluminium and Parabens.
This is the major reason why aluminium free deodorants for men and aluminium free antiperspirants for men are becoming very popular. What's more, these deodorants are formulated using entirely natural or organic ingredients which are very skin- friendly. Due to the hype about natural deodorants, there are now so many brands and types which makes it a lot more difficult and stressful for a new buyer to make the best choice. This is why we took it upon ourselves to bring you the best natural deodorants available on the market.
More importantly, however, this section contains all the tips you need to know and all the factors you should consider in order to make a great purchase decision. Here are some of these factors:
This factor constitutes the most important of all and that is why it is coming first. Before considering any other factors such as price or scent, you need to make sure that the ingredients are totally safe. This is why we advise going for deodorants or antiperspirants that are formulated from 100% organic or natural ingredients. The essence of this cannot be overemphasized; natural ingredients are totally safe and do not cause any form of skin reactions except in very special cases. Most chemical-based deodorants are very dangerous to the skin and could result in long-term damages or injuries. Moreover, they could cause immediate irritations also, therefore, your first port of call should be the ingredients and you have to ensure that they are organic in nature.
The fact remains that notwithstanding how safe certain Ingredients may be, it still boils down to the skin type; this is what determines whether or not you react to it. Certain individuals react to some particular natural ingredients which are considered generally safe for use. This is why you need to understand your skin type and know what works for you. If you are allergic or you get skin irritations from a certain natural ingredient, then you need to make sure that it isn't one of the compositions of the natural deodorant that you are purchasing. Similarly, there are natural deodorants which are specially formulated for people with very sensitive skins. These deodorants usually have the most common irritants absent and are a safer choice than any random natural deodorant. You could check such out also.
This might sound a bit vague but it is in fact a very important factor. When considering deodorant type, there are fragrance and non-fragrance deodorants. Usually, most natural deodorants do not come with added scents or fragrances however there are some that actually have fragrances added. In most cases, natural deodorants have fragrances that are as a result of the ingredients they are formulated with. However, these fragrances are not strong and may fade off after a short while. This is why you need to know what you are getting into. If you want a deodorant that has no fragrance at all, you need to make sure it is stated and vice versa. If you're selecting a non-fragrance deodorant, then you might need a perfume or body spray to apply alongside if you fancy it.
Usually, most deodorants come in the form of creams or pastes and some even come in form of a stick. For every one of these different types, there is an upside and downside. Deodorants that come in cream form usually require kneading between the palms to create a large surface area and make application easy. However, it may be sticky and slow drying and end up staining your shirt; they are very easy to apply either way. For paste, it is also easy to apply but depending on the colour, thickness and the speed with which it dries up, you might end up having stained shirts. Most stick deodorants usually have to be wet with water before use; this could be pretty inconvenient and time-wasting especially if you're someone who is usually in a hurry but it is very easy to use. If you don't have the patience for wetting the stick deodorant, then it is better you go for the ones that only require application without any preceding process.
As always, this is one very important factor that eventually determines the natural deodorant you purchase. If you are working with a budget or you have apportioned some amount of money to purchase your deodorant, then you need to make sure that you stick to that limit that you set for yourself. However, this does not imply that you should compromise on quality since it is very paramount. Similarly, don't go breaking the bank just because you want to purchase a natural deodorant. Recall that price is not a measure of the quality of a product in many cases  Generally, natural deodorants are very affordable and do not cost too much but remember to always go for the best you can get. With this in mind, you would be able to easily filter out the extravagant ones which may not be very effective and purchase a good one that you can easily afford.
---

Frequently Asked Questions
What are Natural Deodorants?
Natural deodorants simply refer to deodorants that have their ingredients gotten from natural or organic sources only. This implies that this group of deodorants do not have any chemical-based constituent like other basic deodorants on the market. Natural deodorants usually contain natural substances that are very beneficial to the skins and keeps body odor at bay. They are also very safe since they lack harmful chemicals found in other deodorants.
Do Natural Deodorants Actually Work?
Basically, natural deodorants work pretty well however, they may not be as effective as chemical-based deodorants – although they are a lot safer. Also, the effectiveness of a natural deodorant depends on the type you go for and in some cases, on your body. For people who have very strong odors, a natural deodorant meant for light odors may not work as well as you want.
How Do Natural Deodorants Work?
Natural deodorants usually contain some active ingredients that combat body odor causing bacteria. They also contain certain natural ingredients that give the deodorant a pleasant albeit weak fragrance. This fragrance in conjunction with the prevention ability of the deodorant combine to give the clean and sweet-smelling effect that you want. Some also have strong fragrances that help to suppress the body odor and keep you smelling fresh all day.
Are Natural Deodorants Safe?
Natural deodorants are very safe since they are made from natural substances which are safe too. The harmful chemicals which you should avoid cannot be found in natural deodorants so you're good to go. Ingredients like coconut oil rarely cause any skin irritation and even if you're sensitive to certain organic substances, there are natural deodorants formulated specially for people with sensitive skins.
Why Should I Choose a Natural Deodorant Over Other Types?
With natural deodorants, there is a guarantee of safety and you can rest assured that it is very friendly on the skin. Chemical-based deodorants contain chemicals like Aluminium and Parabens which pose a source of danger to the skin. Therefore, natural deodorants which are formulated using organic substances are the best to maintain a healthy lifestyle.
Do Natural Deodorants Cost Much?
Natural deodorants are relatively cheap and can be afforded by the average earning man. It also fits very easily into budgets and would not require that you break the bank. Similarly, they last very long, therefore, you do not have to replace very frequently. Even the relatively expensive ones are still pretty affordable too.
Are Baking-Soda Based Deodorants Safe?
All the ingredients present in natural deodorants are generally safe including baking soda. However, some people are reactive to baking soda and their skins get easily irritated. For people like this, it is not advisable to get a natural deodorant containing baking soda. Also, since there are other natural deodorants that do not contain baking soda, then you can always go for those instead.
How Long Do Natural Deodorants Last?
The duration of use of a natural deodorant usually depends on the quantity and container size and of course, how you use it. Typically, if you go according to the guidelines for use set by the manufacturer, then you can always get to use it for as long as they say you could. Some natural deodorants last as long as a year while some others could span a few months. However, this doesn't imply that you shouldn't make use of it generously.
How Often Do I Have to Make Use of a Natural Deodorant?
Usually, natural deodorants and deodorants in general are used in the mornings after having a bath. You could actually make use of deodorant at any time if you deem it fit but more often than not, it is used in the mornings when most men are getting ready for work. Also, most deodorants last for a while after use which implies that you do not have to make use of it too frequently within the same day.
---
Criteria Used for Review
Due to a large number of natural deodorants, we had to make use of certain factors to eliminate the ones that didn't measure up to our standards. We did this in order to get only the best which is what you deserve. We selected the best deodorants on the market but there some really good ones that we dropped. They were dropped not because they weren't great, but because the ones we selected had some unique advantage over a number of the others. This is why we are documenting the factors that we based our judgement upon. We are certain that if you want to select a natural deodorant, then you would need to know certain things. The criteria for selection include the following:
Ingredients
Basically, we selected the best natural deodorants based on how safe for use and how friendly their ingredients are. The importance of the ingredients cannot be overemphasized, this is because they effectively determine the end deodorant you get. Furthermore, certain ingredients such as natural essential oils and extracts from different fruits make for a great addition to any deodorant. Also, certain ingredients could be harmful while some could cause skin irritations for a wide range of individuals; we ensured that ingredients such as these were absent. We also made sure that the constituents of the deodorant are very effective in order for you to get maximum satisfaction.
User Reviews
In order to view the effectiveness of the natural deodorants from every angle, we made sure to check out the reviews that were posted by those who have purchased the products and used them for a while. This was done to get their own personal judgements from their various points of view. Apart from ensuring that the deodorants had a very high percentage of positive reviews, we also checked out the products ourselves to ensure that the posted reviews were indeed genuine and not just some phony stories. For the negative reviews we saw, we cross checked and tested to see if they held any water. After doing this, we then selected only the best that actually work just like the manufacturer indicated.
Price
Making use of deodorant is a continuous business. This implies that as the previous one gets exhausted, you would have to get another. Since this is essential, then the price of getting another shouldn't be so much that you get stranded. We, therefore, ensured that the deodorants came at a very fair price which can easily be afforded by even the average earner. In doing this, we ensured that we didn't misplace quality instead we placed quality as a paramount factor in determining whether or not the prices actually correlated with what the manufacturer had to offer. After this, we then selected the best natural deodorants that are very affordable.
Range of Use
Most natural deodorants are generally safe for use by a very wide range of people. However, there are certain deodorants that contain ingredients which could cause skin irritations or damages to certain people. This was why we selected based on the range of skin types that these deodorants are suitable for. We made sure that they could be easily used by just anybody without causing reactions. For individuals with sensitive skin, we included natural deodorants which are very suitable and easy to use. This was done by going through the ingredients and determining the ones which could cause these reactions. Such deodorants were subsequently dropped while the best were selected.
User Comfort
There is really no point getting a deodorant that is stressful to make use of. Similarly, deodorant application is basically part of every man's morning routine which implies that they wouldn't want to water any time. This is why we considered the ease of use of the deodorants. We ensured that they could be easily picked up and applied at any time without having to go through a special process of getting the deodorant ready. Also, we made sure that the deodorants came in easy to operate containers. All you would have to do is open the lid and voilà, you are good to go.
---
Conclusion
In order to better harness the immense benefits that natural deodorants can offer, then you would have to go only for the best if the best. This is exactly we put this guide together. Since it is essential that you get value for every cent you spend on natural deodorants, we listed a number of natural deodorants that are among the best on the market. Also, if you ever intend to make a purchase, the buyer's guide is there to let you know just what you need to. As long as you keep those factors in mind when making your purchase, you can rest assured that you will be getting yourself only the bat which is wanted and expressly deserved.
The major criteria which you should use to evaluate every of your natural deodorant purchase would effectively assist you in avoiding the street that can result from trying to find the best on the market. With this, you are successfully equipped with all that you need to know about natural disasters.