Over 450 beard trimmer models by 32 top brands. That's the number of options you have today. So choosing the best beard trimmer for your needs may be confusing. In this review, we will show you the top 7 beard trimmers of the year to make your choice easier. Each of these trimmers can make your grooming process smooth and joyful.
Top Beard Trimmers Comparison Table
Before we dive deeper into the review of top beard trimmers of this year, take a look at the most desirable trimmers as a Christmas Gift for men this year (click the orange button to see the details, it will open in new tab so you will be able to continue reading the review.)
The Most Wished For Beard Trimmers in March 2019
Beard trimmers help you to shave and "man-scape" as you need. These grooming tools allow you to trim your hairs at various lengths. You can properly adjust according to the style you are going for.
Choosing the right facial hair trimmer for you is nice and easy. All you have to do is think of the look you have in mind and that you are going for when it comes to your beard and hairstyles and then think of what types of trimmer is required to help you get there. From that point, you can pursue through the best-selling beard trimmers on the market to find the perfect one for you!
In fact, let's begin by taking a look at the top seven facial hair trimmers to help you find the best one for your needs.
---
7 Best Beard Trimmers for Men to Buy in 2019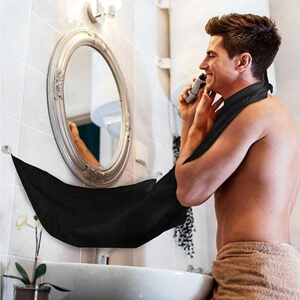 Trimmer Overview
The Panasonic ER-GB370K is an electric beard and hair trimmer that utilizes durable and ultra-sharp trimming blades to help you maximize your shave.
The blades are precision honed down to a 45-degree angle which increases the performance of your trimmer and increasing the value of your shave.
This trimmer is unique with its quick adjust dial that is able to provide you with 19 different and individual trim settings spaced out at 0.5 mm increments.
The adjustments are able to give you shaves and trim anywhere from 1 mm to 10 mm, making this device great for multiple uses and purposes, no matter your hair length.
This trimmer is able to be used both wet and dry, so you can use it in the shower or while looking in the mirror. No matter how you like to prefer shaving, you can do so with this shaver.
---
Trimmer Overview
The Remington PG6171 is a master kit that provides you with all the pieces you need (and more) for perfecting your shaving experience.
This complete kit features 11 essential pieces to present you with all tools and equipment you might think of needing. The blades on the trimmer are self-sharpening. So you won't have to worry about sharpening them yourself.
The trimmer itself has a 3-hour operation runtime, allowing it to deliver long-lasting durability while still maintaining a high performance throughout its entire operation.
Plus, if you need a quick boost, the 5-minute quick charge is able to save you precious time. This charge gives you enough power for a full shave in just a matter of minutes.
Additionally, the entire kit is 100% waterproof, making it more practical and efficient for your daily use.
---
Trimmer Overview
Braun trimmer (BT3040) helps you to get the perfect beard fast and precisely.
From the world's #1 leading foil shaver brand, this beard trimmer has 20 different precision length settings at increments from 0.5 mm to 10 mm. Lifetime warranty guarantees that blades will stay sharp throughout your entire use of the device.
Braun trimmer has a head and comb that are both fully washable, allowing for quick and easy cleaning under any temperature of running water.
---
Trimmer Overview
Philips Norelco Series 3500 has standard titanium blades that are self-sharpening, working to continue cutting every single one of your hairs just as you had intended.
There are 20 different built-in precision lengths thanks to a zoom wheel that allows you to quickly go from one length to another with just a spin of the wheel. The lengths you can choose from are 1/32 inch or 0.5 mm to 13/32 inch or 10 mm.
Plus, with its advanced lithium battery, you can enjoy 2 hours of shaving on a single 1-hour charge.
A beard comb is included with this trimmer so you can have the complete package all in one.
---
Trimmer Overview
Philips Norelco Series 7200 has a world-class vacuum system integrated into the trimmer itself which allows the device to catch up to 90 percent of the hairs that were cut. This gives you less of a mess to worry about cleaning up. There is a high-velocity motor in the trimmer that creates the powerful suction to collect all your snips.
Additionally, this trimmer features one-of-a-kind lift and trim technology where the trimmer lifts guided hairs, creating a more effective and efficient cut. This trimmer includes self-sharpening steel blades to help you get the perfect shave for years to come.
---
Trimmer Overview
Philips Norelco 3750 is the best selling trimmer, coming from the world's best trimmer brand.
This trimmer itself offers DualCut technology which means there are twice as many blades as a standard trimmer gives, helping you get an even better shave than usual. During operation, these blades brush up against one another to sharpen themselves throughout each use. Even after years of use, the blades will still be sharp!
Even more, you will enjoy the 60 minutes of extended use that is granted per one singular charge.
---
Trimmer Overview
Last but not least, the Panasonic ER-GB40-S 19 has sharp stainless steel blades held at a 45-degree angle to create the perfect cutting edge and surface for your best shave yet. This feature doesn't depend on if you are trimming your hair, beard, or mustache.
This trimmer is able to be used either wet or dry and is fully washable.
Complete on this trimmer as well as a quick-adjust dial which provides you with 19 different precision settings for all of your various trimming requirements.
This device fits great in the comfort of your hand thanks to its ergonomic design with flexible rubber grip. This gives you ease of use throughout every shave.
---
Beard Trimmers Review Conclusion
All of these beard trimmers will give you a new shaving experience that you haven't been able to enjoy yet. If you are looking to improve your shaves and your style, then one of these seven trimmers will provide you with your fulfilled shaving dreams.
Take a look and see which one will fit your style today!

---
Frequently Asked Questions About Beard Trimmers
How Do Beard Trimmers Work?
How to Clean a Beard Trimmer?
How to Sharpen a Beard Trimmer?
What's The Difference Between a Beard Trimmer vs an Electric Shaver?
What's the Difference Between a Beard Trimmer vs a Body Groomer?
Which Beard Trimmer Is Best for Stubble?
Can a Facial Hair Trimmer Be Used for Body Hair?
Can A Beard Trimmer Be Used for Pubic Hair?
Can A Beard Trimmer Be Used to Shave My Head?
Can A Beard Trimmer Be Used to Shave My Legs?
Can A Beard Trimmer Be Used to Trim Eyebrows?
Can I Take Beard Trimmer in Hand Luggage On Plane?
Which Wahl Beard Trimmer Is the Best?
What About Brio Beard Trimmer?
Which Beard Trimmer Can You Use In The Shower?
Which Beard Trimmer Is the Best for Longer Beards?
Which One Is Better: Braun Trimmer vs Philips Beard Trimmer?
What Is the "Beard Trimmer for Bikini Area"?
Which Beard Trimmer Is the Best for Black Man?
Which Men's Beard Trimmer Is the Best for Travel?
How to Use a Beard Trimmer with Laser Guide?
Which Is the Best Beard Trimmer with Vacuum Hair Catcher?
What are the most popular beard styles?
How to use a beard trimmer properly?
---
Best Beard Trimmer Buying Guide
What are your thoughts about beard and beard trimming? Let's discuss below in comments.
Last Updated on