Editor choice
Top 5 Best Selling Panasonic Electric Shavers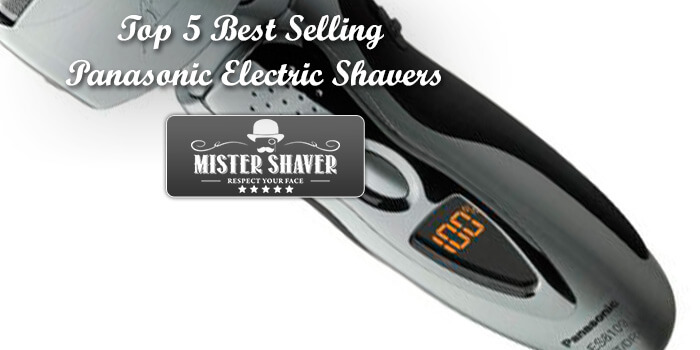 Panasonic shavers are renowned for being high-powered and waterproof. They are suitable for both dry and wet use. This means you can either use them while taking a shower or without any water or foam at all. Panasonic electric shavers have been getting many reviews and that too for all the good reasons.
As a reliable Japanese company, Panasonic has never created a run-of-the-mill kind of electric shaver. All of their models have been of a very high quality and have incorporated some of the most innovative features any electric foil shaver can have.
Panasonic Electric Shavers Features
Panasonic's electric shavers are divided into three main series based on the number of blades they have. They are known as Arc 3, Arc 4 and Arc 5. Here are some of the features that make Panasonic electric shavers stand out from their competition:
Wet/Dry Washable – all of Panasonic's electric shavers are usable for a wet and a dry shave. You can use your favorite gel or foam in order to get a perfect, smooth shave.
Shaving Sensor Technology – Panasonic has integrated an advanced Shaving Sensor Technology that automatically detects your beard's density and adjusts the motor speed accordingly.
Fast, Linear Motor Drive – the motor of Panasonic's electric shavers is a rapid-fire 13000 cycles per minute linear motor that delivers a smooth shave.
Multi-Fit Arc Foil – the multi-fit arc foil follows the contours of your face to ensure an efficient and thorough coverage with maximum comfort possible.
Nanotech™ Blades – the precision-designed blades 30-degree inner blades feature nanotechnology. They cut the hair at its base to ensure a smooth shave.
Pop-Up Trimmer – Panasonic electric shavers come with a pop-up trimmer, which has a 45-degree angled blade to help you in grooming mustaches and sideburns.
Water Shutters – the water shutters are a one of a kind that allows water to freely flow through the head, allowing easy maintenance and cleaning.
Sensor Mode Indicator – the blue light turns on when the beard sensor is on.
5 Best-Selling Panasonic Electric Shavers Review
1.   Panasonic ES8103S Men's 3-Blade (Arc 3) Wet/Dry Rechargeable Electric Shaver with Nanotech Blades

2 new from $299.99

Last update was in: August 14, 2018 6:33 am
Water infused hygenic solution cleans stubble and debris from the shave and refreshes the blades
Long lasting cartridge provides superior cleaning power and keeps the blade lubricated.
Arced, micro polished Nanotech blades for closeness
Linear motor - 13,000 RPM, fastest in the industry
Adjustable pivoting head for a comfortable and smooth shave
The Panasonic ES8103S is a 3 blade electric shaver that is among one of the top-selling shavers worldwide. The reason is simple enough; it is packed with innovative features that give you a wonderful shaving experience without robbing you. This shave is quite affordable too and gives you bang for your buck.
The pivoting shaving head of the ES8103S brings with it a multi-fit arc foil that does a superb job of adjusting according to the contours of your face and gives a smooth, clean shave. The shaving head can also be taken apart for ease of cleaning.
Other features include the nanotech blades, a pop-up trimmer, and a high-speed linear motor. Like all Panasonic electric shavers, this model is 100 percent waterproof.
2. Panasonic ES8243A Men's 4-Blade Wet/Dry Rechargeable Electric Shaver
12 new from $97.48

Free shipping
Last update was in: August 14, 2018 6:33 am
The Panasonic Arc 4 men's electric razor system, with four ultra-sharp Arc4 NanotechTM blades for quick, clean wet dry shaver comfort and convenience.
Ultra-thin, stainless-steel Multi-fit Arc4 foil conforms gently to facial contours for outstanding shaving machine closeness and results.
Flexible pivoting Panasonic Arc 4 electric razor shaving head glides effortlessly over face, chin, neck and jaw.
A high-performance Arc4 linear motor drive delivers 13,000 cuts per minute and maintains peak power up to the end of every battery charge for consistently close and even electric razor shaving.
The Panasonic ES8243A is the older brother of the ES8103S and is equipped with 4 blades instead of 3. This blue-gray colored electric shaver is capable of being used both for a wet or a dry shave. The 4 blade ultra-thin foil cutting system working in conjunction with Panasonic's Nano Blades give a super smooth shave with ultimate comfort.
Standard electric razors operate at a speed between 8000 and 10000 RPM.  Panasonic's rapid-fire 13000 cycles per minute linear motor is undoubtedly among one of the fastest motors ever used in an electric shaver. A faster motor means a quicker and smoother shave.
Cleaning the blades is yet again almost as simple as 1-2-3. Simply remove the foil, switch on the turbo mode and rinse the blades under running water and you will make your shaver as good as new.
3. Panasonic ES-LT41-K Men's 3-Blade (Arc 3) Wet/Dry Rechargeable Electric Shaver
12 new from $61.96

Free shipping
Last update was in: August 14, 2018 6:33 am
The Panasonic Arc3 cordless wet dry men's electric razor features a high-efficiency 3-blade cutting system with ultra-sharp 30° Nanotech blades for a fast, close and smooth shaving experience.
ES-LT41-K includes a 13,000 cpm linear motor drive, an ultra-thin Multi-Fit Arc 3 foil and flexible, pivoting shaving head designed to glide effortlessly over face, chin and neck for enhanced electric shaver comfort.
This Arc 3 (3 blade) shaver is brimming with smart features that are designed to give you the experience to remember. The three-blade shaving system ensures a smooth and comfortable shave and adjusts according to the contours of your face. The blades are angled at 30 degrees to make sure that they cut the hair at the base to provide an effortless and even shave.
The slit foil makes it easy to catch long beards which are otherwise difficult to cut using other blades. The black-silver color of this shaver really gives it a premium look and you can even carry it around with you when you travel. The built-in travel lock prevents the shaver from turning on inadvertently.
4.  Panasonic ES-RT51-S 3-Blade Nanotech Wet/Dry Rechargeable Shaver
49 new from $42.97

Free shipping
Last update was in: August 14, 2018 6:33 am
Durable motor for a quick
Sleek, ergonomic profile fits naturally in either hand for maximum shaver comfort and control
Made in China
The Panasonic ES-RT51-S electric shaver is equipped with some of the most advanced features of Panasonic's higher class of electric shavers, but this shaver only costs a little less than $50. The 3-blade cutting system along with the flexible pivoting head ensures that you get maximum comfort while shaving. Dab on some gel or foam if you wish, or just use it for a dry shave.
This shaver is also equipped with Nanotech blades to ensure that the hairs are cut at their base. Akin to all Panasonic electric shavers, you can rinse this shaver under running water with no worries at all.
This electric shaver has support for dual-voltage conversion so you can easily chuck it in your bag and take it along with you when going abroad!
5.  Panasonic ES-LA63-S Arc 4 Mens Electric Shaver with Dual Motor and Multi-Flex Pivoting Head
34 new from $110.00

Free shipping
Last update was in: August 14, 2018 6:33 am
The award-winning Panasonic Arc4 Multi-Flex ES-LA93-K men's electric razor is the 4-blade, dual-motor shaving system with precision-honed 30° angle Nanotech blades for maximum durability and sharpness.
Top-rated electric shaver with a fast, powerful Hyper Performance Dual Motor features a Panasonic linear drive that delivers 14,000 cuts her minute - that's 56,000 cross-cutting actions per minute across 4 blades - while a second motor vibrates the Arc 4 shaver head up and down to help lift and hold hair for a clean, smooth, efficient shave.
The Panasonic ES-LA63-S Arc 4 truly exhibits a class of its own. With its dual motor and multi-flex pivoting head, shaving had never been so comfortable.
The powerful 14000 cycles per minute linear motor is capable of providing you 45 minutes of usage. It requires only an hour of charging. Simply put, 45 minutes of usage time means that you will be able to use the shaver for approximately 2 weeks if you shave on a daily basis. Impressive indeed!
The four foils reduce shaving time and ensure excellent coverage of your face. This shaver is ideal for the most demanding of men!
Other Panasonic Electric Shavers
Last update was on: August 14, 2018 6:33 am
Other electric shaver brands to consider: Braun, Philips Norelco.