This Merkur safety razors review has been constantly updating since 2014. We have tested literally all Merkur razors available on the market.

Four years in a row the winner is Merkur 23C (Long Handled Safety Razor). In our opinion, this DE safety razor is the best choice for all types of bristle, all types of skin and all ages.
Merkur safety razors are Merkur company's flagship products.  A leading worldwide manufacturer of quality shaving equipment since 1906, the Merkur Solingen company is a subsidiary of DOVO Solingen Steelware. DOVO is an independent concern headquartered in Solingen, Germany producing a variety of men's grooming accouterments including scissors and manicure tools.
5 Best DE Safety Razors by Merkur
---
3 Most Wished For Merkur Razors in November, 2023
[Editors' Pick]
First patented in 1880, the modern safety razor is a shaving tool that utilizes a protective guard between the skin and the edge of the razor. Typically featuring a double head — hence the name "double-edge (DE) razor" — with two opposing sharp edges, the safety razor was the razor of choice among men until recent decades when the mass marketing of multi-bladed razor blades eclipsed DE shaving. So let's talk about Merkur safety razors.
Back in 2013, DOVO focused their corporate commitment to reestablish the Merkur brand as the world's leading razor company. DOVO has greatly expanded their shave plane production, offering super-premium platinum blades and 100% metal shavers (available in brass, non-corrosive steel or die-cast)  with balanced ergonomic designs. They have reached the goal and today they are still #1 safety razor company.
Whatever your preference, a quality Merkur product awaits to enhance your grooming experience.
Let's go deeper into each razor model review.
---
Merkur Standard Safety Razors
Merkur Short Handle Razors:
Merkur 30C Review
With a total weight of 58 g, the Merkur 30C features a lightweight, straight bar head and a matte black, twist pattern handle measuring 7.8 cm. This 3-piece DE safety razor delivers a shave of outstanding quality. The shaver is slightly head heavy; thus the weight of the head facilitates an extra close shave. And the handle's texture made from knurled anodized metal provides a sure grip, even with wet or soapy hands. The smooth head of the shaver glides effortlessly across the face, minimizing irritation while cutting whiskers. Delicately balanced and well constructed, its heft is designed for men with big hands who want a shorter handle razor.
---
Merkur 33C Review
One of the most popular choices for men with tough or very heavy beards, Merkur 33C features an open comb that permits a superlative close shave while protecting against razor rash. This classic is a chrome finished, 3-piece DE razor with a handle of approximately 7.6 cm (3 in) in length and designed with a non-slip grip.
Many neophytes transitioning to a Merkur quality razor choose the 33C as their gateway to finer grooming. It is recommended to keep the top "dome" clean and polished so the razor will glide down the face for an even closer shave. It is easy to use and minimizes nicks and cuts that could occur from wielding a more aggressive shave.
---
Merkur 34C HD Review
The Heavy Duty 34C HD is a 2-piece double edge safety razor finished in chrome. Designed with a thicker and reliable non-slip grip, its built-for-comfort handle measures approximately 7.6 cm (3 in) in length.
The popularity of the 34C HD comes from its classic head which uses its weight to help provide a close and comfortable shave. Easy to use, it's considered a starter razor as the balance and size is an ideal introduction to those who are unaccustomed to the quality of a precision shaving tool. It gives minimal razor burn irritation but uses minimal effort for a silky and precise shave. Reasonably priced with outstanding quality.
The 34C was voted "World's Best Razor" in 2013 and 2015 in About.com Readers' Choice Award for the best safety razor.
---
Merkur 42C (1904) Review
A 3-piece razor available with a heavy duty head, Merkur42C comes with an old-school, six-sided retro handle replicated after the Gillette 1904 classic. It is made of nickel plated chrome and has a delightful weight, balanced for a precise shave. The engraved handle provides a sure, non-slip grip. For men looking for a nimble and quick shave, the style and performance the 42C can't be beaten.
Options include a safety bar and both an open and closed comb. Considerably smaller than most razors, many men use it for shaving other areas of their body besides their face. However, those with big hands may find the handle too small and thin for easy use. Perhaps the most competitively priced and best value to be found among the Merkur brand of razors, it can serve as a gateway to DE shaving.
---
Merkur 45C "Bakelite" Review
Debuting in 2010, the Merkur 45C is a durable, 3-piece shaver made from classic Bakelite plastic. Bakelight, developed in 1907, was designated a National Historic Chemical Landmark in 1993 by the American Chemical Society in acknowledgment of its significance as the world's first synthetic plastic. The red/black look appeals to those who favor an old-school retro appearance. It is considered a much more aggressive razor than the 34C.
It is one of the lightest safety razors sold on the market, weighing just 14 g (57g including blade and plastic case) and the handle measures approximately 7.6 cm (3 in). Merkur 45C features a double edge straight bar head and a closed comb with a straight cut. Favored by many as a travel shaver, the case also fits Merkur's 11C, 15C, 33C, 34C and 37C razors.
---
Long Handle Razors:
Merkur 20C Review
Merkur 20C is a 3-piece razor with a DE head and is considered less aggressive than the Merkur 33C. It features a textured, black matte surfaced handle. The chromed knob or cap with the distinctive Merkur logo at the end of the handle disassembles, adding to its functionality.
The razor head threads into a chromed ferrule and the protracted spiral of the knurling extend down the extra long handle, allowing for easy maneuvering of the razor during use. Users rave about the razor's balance and weight as well as its silky smooth, close shave. This high-quality razor has a durable chrome finish that retains its new look even after years of use.
Unlike many safety razors designed to appear as antiques, Merkur 20C has a modern, up-to-date style.
---
Merkur 23C Review
Also known as the Merkur 180, this 3-piece, premium quality safety razor has an extra long handle measuring 9.5 cm (3.74 in) and a traditional lightweight DE head for a quality shave. Finished in chrome, the handle features a comfortable non-slip grip designed for men with larger hands who desire better control over their razor.
Consistently one of Merkur's best selling models, it is the long handled version of the 33C. It comes with a closed comb and provides a comfortable shave with no razor burn. Users describe it as very forgiving without excessive aggressiveness. Solidly built with heft and effortless to use, the 23C weighs but 50 g (1.764 oz) yet users marvel at its balance and nimble grace.
---
 Merkur 38C "Chrome" Review
Featuring a straight bar head and a closed comb, Merkur 38C has a heavy handle with a solid brass core. Modeled after American barber poles, this hefty yet balanced 2-piece razor measures 9.5 cm (3.74 in) and weighs 120 g (4.25 oz). This added mass means the weight of the razor and blade does the shaving work. It has an etched chrome finish with a standard DE head and fits all safety razor blades. The long handle features a spiraled etching for a better, surer grip when shaving.
The 38C has been a favorite of shavers for decades. As a non-adjustable razor with its blade gap and head design angle, it's been described as a "mildly aggressive" shave. Many laud its forgiving touch; thus, it's a natural gateway to quality DE shaving. The consensus? It delivers a very close and smooth shave without nicks or bruises.
---
Merkur 43C Review
This heavy, long-handled 2-piece double edge razor has a solid, brushed stainless steel handle with a chrome plated, fixed bar safety head and a closed comb. The handle, measuring 9.5 cm (3.74 in), has an end cap which turns to release the head.
Merkur 43C is comfortable to hold and is a favorite choice of tall men with big hands. It is one of the heaviest razors on the market, weighing 148 g (5.22 oz), and its well-balanced heft uses the blade to shave whiskers without effort. Considered much less aggressive than many other Merkur models, the 43C causes minimal skin irritation and no razor burn. Works well with even thick, coarse beards.
---
Merkur 47C Review
Chrome plated throughout with 3-piece construction, Merkur 47C weighs 90 g (3.17 oz) with a long 9.5 cm (3.74 in) texture lined pattern handle that is machine tooled (not knurled) for a secure, confident grip when wet. Note that there are tiny triangular shapes set within the grooves of the handle. The longer handle length with an elephant foot design and Merkur logo provides added heft and dexterity for a close, comfortable shave.
It has a DE head similar to the Merkur 33C, 34C and 38C but many consider the appearance of this model more modern and refined than the industrial styling for which Merkur is known. Described as "mild" and "forgiving," the 47C is an ideal razor for the wet shave DE beginner and delivers a silky smooth shave.
---
Merkur Open Comb (OC) Safety Razors
Here you may find this background about the history of open comb razors useful. The very first Gillette double edge razors were open comb style, referred to as "Old Style." This means that when the cap was fully tightened on the razor, the blade rested virtually flush against the comb without the blade gap of a safety bar razor.
These were adjustable razors; shavers would firmly tighten the cap or knob of the handle for the first pass or two and then loosen the knob about 1/8 of a turn for a closer shave. This technique allowed the blade to rise from the comb, providing more blade exposure.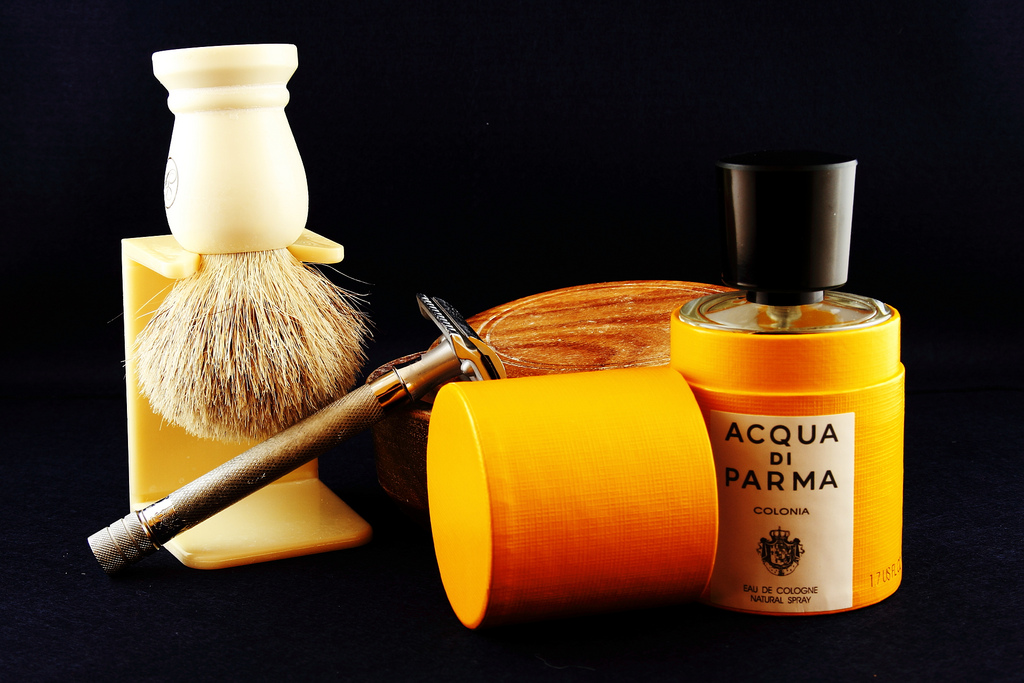 While many modern razor manufacturers make OC models with shoulders, which behave like today's safety bar razors, Merkur's OC razors are based on the Gillette Old Style. One look reveals that the blade lies flush against the comb. So, while open combs are usually considered a more aggressive razor, a fully tightened Merkur OC is actually a relatively mild razor that does not cut all that closely. Loosen the knob as described above or perhaps even less to attain the razor's maximum cutting potential.
Other observers have made the point that blades of the early 20th century were much stiffer than the thinner, pliant modern blades of today, i.e., 0.254 mm (0.01 in) versus 0.102 mm (0.004 in). Thus one might consider the placement of a shim under the blade of the OC to provide a small gap, thereby increasing the blade's aggressiveness.
Try cutting one from, say a margarine tub lid or fountain drink lid, ensuring that it is several millimeters narrower than the blade. Using the blade as a template, mark the location of the blade's three holes, then punch them out. Insert under blade for lift.
A Modern Adjustable Razor
Hence, using Merkur OCs take some practice. Loosening the knob has a significant effect on the razor's action: not only does the blade gap open, the amount of the blade's pre-bend changes. A modern adjustable razor only changes blade gap, not the pre-bend.
Don't let these particulars deter you from trying Merkur's Old Style OC razors. Many men enjoy shaving with them; with practice and experience, they adjust the razor for their perfect shave. Those who are accustomed to a best straight razor will find no difficulty shaving with an Old Style OC.best
Short Handle Razors
Merkur 41 (1904) Review
This visually striking model with antique styling, also known as the" Merkur 1904 Classic," is similar to the now discontinued Merkur 11c with a lighter handle. The 41 is the open comb bar version of the 42; it comfortably shaves the coarsest beards with ease.
Lightweight, easily maneuverable and well balanced, it is an adjustable 3-piece double edge razor, nickel plated with a short, diamond patterned handle of 7.5 cm (3 in). The six-sided handle with end knob is designed for a thicker, non-slip grip. While the 41 is recommended for experienced wet shavers, some men prefer a more aggressive razor.
An outstanding value, it is often used as a travel shaver or when skipping a day or two between shaves. Those who use the 41 to shave long hair find that having the blade sit on the teeth keeps the razor from clogging, thus making it a superior choice for shaving one's armpits.
---
Merkur 15C Review
Featuring a lightweight DE head and a slender, short (7.5 cm / 3 in) handle, the open comb bar of the classic 15C is designed for the coarsest of beards. Considered rather mild (and perhaps not sufficiently aggressive for some), it delivers an extremely smooth, comfortable and close shave with no razor burns.
The textured knurling of the handle and knob ensures a comfortable and sure grip. Many users have commented that the Merkur 15C is a thinner, lighter version of the now-discontinued Merkur 11C. It has a neutral balance, not as hefty or as head heavy as some razors, and lighter in weight than the HD razors.
The 11C is an outstanding value and another popular choice for travelers. It's easy to clean, built to last a lifetime and an appropriate choice for newcomers to open comb DE shaving.
---
Long Handle Razors
Merkur 25C Review
Known as the "Long Classic," the 3-piece chrome finished Merkur 25C is essentially the same razor as the 15C with a longer (9.5 cm / 3.734 in) handle for superior shaving control and grip. Its open comb and lightweight DE head is ideal for coarse beards and long hair.
Many users compliment its balance of handle length to head weight (overall weight 50 g / 1.764 oz) and the ease of finding the "sweet spot" where the razor cuts best. In aggression, it ranks mild to medium while delivering quality, silky smooth shaves.
Another excellent starter razor to perfect one's DE shaving technique, the 25C is a solid value that will last for years.
---
Merkur Adjustable Safety Razors
Merkur 500 Progress / 570 Progress "Long Handle" Review
These flagship Merkur products, consistently perennial best-sellers, are Merkur's entry-level adjustable razors. They are premium quality, 2-piece double edge single blade razors and fully adjustable. This allows the shaver to change the angle of the blade inside the razor head by twisting the knob at the bottom of the base to create either a wider or narrower gap between the blade and the safety bar. Less blade tension and a wider gap mean a closer shave.
The blade position can be adjusted from 1 – 5 around the bottom of the handle.
The 500 and 570 are considered short handled models; their overall length is 8.731 cm (3.438 in) with a weight of approximately 85 g (3 oz).
The head of the Progress measures 4.128 cm (1.63 in) by 2.54 cm (1 in) and the sure grip, rib designed handle spans 7.94 cm (3.125 in) with a diameter of 1.11 cm (0.438 in).
Handle and neck are brass plated.
The only difference between the Merkur 500 Progress and the 570 Progress is that the 570 has a hard-plastic travel case while 500 does not. Otherwise, these razors are identical.
A postscript: The smaller handle and lighter mass of the 500/570 may be better suited for men with smaller hands.
The Merkur 510 Progress "Long Handle" is the same razor as the 500 except with a longer handle. In fact, the 510 handle retains the same diameter as the 500 yet is longer by 4.128 cm (1.625 in), which many men with bigger hands find more convenient to use.
The extra length of the 510 handle adds approximately 15 g (0.53 oz) to the razor, making it slightly heavier than the 500/570.
---
Merkur FUTUR Review (700 "Satin" / 701 "Mirror" / 702 "Gold")
German for "future," the Futur – Merkur's mid-range adjustable razors — encompasses three models which mechanically speaking are essentially the same.  The difference lies in the finishes; the 700 has a satin chrome finish, the 701 has a shiny chrome finish and the 702 has a gold plated finish.
Compared to the Progress line of razors, the Futur tout a more contemporary and elegant visage. Its smooth finish across the entire body of the razor lacks the standard knurling or patterns on the grip of the razor handle. The Futur has a larger, bulkier DE head and longer handle compared to traditional short-grip razors, making it congenial to those with larger hands or who favor the touch of a longer razor.
With an overall weight of 122 g (4.3 oz), the Futur provides the comfortable heft, balance and solid feel sought after by many traditional DE shavers. Moreover, the Merkur's snap-on head secures the blade, preventing it from shifting around inside the cutting head.
The Futur's cutting head allows the shaver to easily adjust the aggressiveness of the razor. The handle has numbered adjustment settings between 1 and 6 divided by diacritical marks between each number. When the shaver turns the handle, the cutting head is either raised or lowered, creating a larger or smaller blade gap.
The smallest blade gap is set at 1; the most aggressive is 6. It is recommended that a newcomer to the Futur single blade razor start at 1 before gradually increasing blade exposure to find the most suitable aggression for his skin type and beard density.
Note that some users report the large cutting head can cause issues when shaving small areas of the face, such as under the nose.
Offering considerable visual appeal, functionality and even environmental compatibility (the steel is not combined with plastic or other non-sustainable materials), the Merkur models are solidly constructed adjustable razors that many experienced DE wet shavers highly recommend to their peers.
---
Merkur Vision (2000) Review
Merkur's top-of-the-line premium adjustable single blade safety razor, the Vision is a Porsche in a Volkswagen world. Even experienced DE shavers are stunned by their first Vision experience. It features outstanding craftsmanship, an incredibly smooth shave and stylish lines heretofore unseen on the brand's venerable models.
The Vision has the flexibility of blade adjustment with the convenience of butterfly-style doors for easy cleaning and blade replacement. Measuring slightly over 12 cm (4.75 in), users marvel at its weight (127 g / 4.5 oz.) and how it fits in one's hand when shaving.
Finished in a brushed satin chrome with a smooth matte surfaced handle, it's the pinnacle of modern shave engineering for maximum comfort and closeness.
Due to the advanced shaving technique needed, the Vision is probably not the best gateway razor for the DE neophyte. Some have commented that it requires extra cleaning should hard water be used when shaving. Despite criticism, many experienced DE users claim that the Merkur Vision 2000 gives the best shave next to a barber's straight razor.
Below is a comparison of Merkur's adjustable safety razors (numbers are slightly different from those cited in the reviews):
| | | | |
| --- | --- | --- | --- |
| Merkur | Futur | Vision | Progress (LH) |
| Length | 11 cm / 4.33 in | 12.2 cm / 4.8 in | 10.5 cm / 4.125 in |
| Head Width | 5.2 cm / 2.03 in | 5.1 cm / 2.025 in | 4.15 cm / 1.625 in |
| Blade to top of cover | 0.2 cm / 0.065 in | 0.2 cm / 0.065 in | 0.711 mm / 0.028 in |
| Weight | 125 g / 4.4 oz | 124 g / 4.37 oz | 100 g / 3.5 oz |
| Blade Cover | Snap on | TTO butterfly | 2-piece |
| Settings | 1  –  6 (numbers) | V I S I O N (letters) | 1  –  5 (numbers) |
---
Merkur Slant bar Safety Razors
Merkur 37C "HD" Review
The logic behind using a slant razor is simple: a diagonal cut is more efficient than a straight cut. Remember the diagonal cut of the guillotine? Early in the 20th century, inventor Thomas Wild patented the slant razor as we know it today. The Merkur brand is synonymous with slant and uses Wild's basic idea.
It combines the concept of helicoidal geometry (think Archimedes' screw) with the gap (aperture), blade exposure and cutting angle. The greater the gap, blade exposure and angle, the more aggressive the razor. All three facets interplay with one another, calibrating shave aggression. For example, a large cutting angle can be tempered by a small gap, thereby reducing the aggression of a razor.
The variable helicoidal geometry of Merkur's slant razor heads provides outstanding equilibrium between cutting efficiency and mildness. Moreover, the slant head twists the blade, increasing blade rigidity, and this factor also contributes to a smooth, close shave.
The slant has a reputation as a razor prone to nicking and cutting the shaver's face and one meant for the experienced DE user. However, it can be a good choice for the beginner provided that care is taken when exerting pressure. Getting a close shave with a very mild razor takes a well-developed technique. But with the slant, since a range of angles is built into the head it can be easier to receive a close shave. While many tout the slant razor for men with tough beards and delicate skin, it is actually quite suitable for everyone.
---
Merkur 39C "Long Handle" Review
The differences between Merkur 37C and the 39C serve to highlight the preferences of the individual user. Both are 2-piece double edge safety razors. The 39C has the nickname of "sledgehammer" due to its extra weight which some shavers prefer. Others favor the 37C due to the short handle's more nimble feel and easy maneuvering. Since the slant razors are reasonably priced and a solid value, many users try both to make an evaluation of their personal preference.
Below is a side-by-side comparison of the Merkur Slant double edge single blade razors:
| | | |
| --- | --- | --- |
| Merkur | 37C HD | 39C Long Handle |
| Handle Length | 7.586 cm / 3 in | 9.527 cm / 3.75 in |
| Total Length | 8.171 cm / 8.22 in | 10.074 cm / 4 in |
| Handle Thickness | 1.167 cm / 0.453 in | 1.156 cm / 0.453 in |
| Weight | 75.4 g / 2.66 oz | 111.8 g / 3.944 oz |
---
Merkur Travel Safety Single Blade Razors
Merkur 933CL Review
Supplied with 60 x 60 mm (2.25 x 2.25 in) genuine leather case, the 933CL is a traditional, non-adjustable double edge single blade razor with a 4 piece design and a 2 piece handle that unscrews for compact travel. Popular with the U.S. Armed Forces, it has a straight bar with a wave pattern for a close, comfortable shave of normal beards or sensitive skin.
When assembled, Merkur 933CL measures 7.3 cm (2.875 in). The handle (measuring 7 cm / 2.75 in) has an etched, cross hatch design for a secure grip.  The leather case has a snap closure with room to store up to five extra DE blades. It's lightweight (42.52 g / 1.5 oz) yet well constructed and sturdy.
---
Merkur 985CL Review
Essentially Merkur 933CL with an open comb for those with heavier beards or who desire an extremely close shave, the 985CL is prized by travelers for its compact size, non-slip grip, and comfortable shaves. Made from aluminum, its lightweight tempts the user to increase pressure while shaving. Resist, as this leads to nicks and cuts.
The open comb is more aggressive than a safety bar yet not as aggressive as a slant. Despite its shortish handle and lightweight, it is well balanced and easy to clean and maintain. Some shavers report that the 985CL performs betters with certain blades; too sharp and the razor bites but if too dull the razor tugs.
Unlike the 933CL, spare blades reportedly don't fare well in the travel pouch with the 985CL, as they tend to become mangled and bent.
---
Merkur 46C
Review
The newest addition to the line of Merkur double edge travel single blade razors, the 46C is a handsome shaving tool with a brushed satin chrome finished handle and mirror chrome head. The razor length is 7.87 cm (3.1 in) and weighs a remarkable 17 g (0.6 oz). Like the CL models, it is comprised of four parts and the two-part handle allows the shaver to easily maneuver the razor.
The 2 piece head — identical to the 33C and the 34C — provides a beautiful shave with no nicks or cuts. Highly practical, luxurious yet reasonably priced, Merkur 46C is considered mild enough to be a starter razor for someone new to DE shaving. The stylish black leather traveling case has room for a 10 pack of blades.
---
How to Choose a Merkur Safety Razor?
Now that you've made the time-tested choice to use the finest safety razor available for your shaving needs, how do you select the Merkur Safety Razor right for you? There are a number of options to consider, all of which can affect one's shave. For example, the typical newcomer to fine grooming will usually try a variety of blades before finding the one that works best for his shaving needs.
Merkur differentiates their razors by:
Handle length
2 or 3 piece construction
Closed comb (safety bar) or open comb ("teeth")
Adjustable or fixed razor
One aficionado of Merkur safety razors made the following observation:
All of the Merkur safety bar safety razors are the same head design. All of the Merkur slants are the same. All of the Merkur open combs are the same. Merkur only has 3 non-adjustable head types and three adjustable head types. Three piece has the advantage of customization; handles can be matched with different head pieces.
Note the difference between a three-piece and a two-piece DE shaver
A razor made of 3 pieces has a handle and a 2-piece head that sandwiches the blade into place while the top of the head of a 2-piece razor ("Twist to Open" – TT0) comes off as you unscrew the very bottom of the handle when inserting the blade.
Wet shaving DE neophytes make the common mistake of not correctly tightening the top of the razor to the handle, thus allowing up-and-down play from the blade. This oversight can cause facial skin to be caught between the blade and the guard, resulting in a noticeable cut.
Always use caution when screwing the handle into place to keep the blade from nicking one's fingers.

There is an art to using a safety razor for a close shave and so it is recommended that one observe techniques by watching YouTube videos and starting with a milder shaving razor. A milder razor allows more leeway for a less experienced touch, thereby reducing the chance of cuts and nicks.
The difference between a milder and a more aggressive razor comes from blade exposure. Ergo, the less the blade is exposed, the milder the shave; conversely, a more exposed blade means a more aggressive shave. Conventional wisdom says that a non-adjustable razor is milder than an adjustable razor.
How to Use Safety Razor?
When using a double edge razor, do not add pressure with one's hand let the weight of the razor cut the whiskers. Adding pressure to your hand results in facial nicks or cuts. One way to get a close shave using a DE razor is to make up to 3 passes during a shave.
Apply lather with a brush and make the first pass WTG (with the grain), then rinse and re-lather.
On the second pass, shave XTG (across the grain); this refers to the direction your beard grows. Usually, beards grow downward so the WTG pass means shaving with down strokes. XTG shaving moves left to right or right to left.
If a third pass is desired, many men make an ATG (against the grain) pass, using upwards strokes with the razor.
You may find this type of shaving pattern cuts too close to the skin, causing discomfort. Or you may find that some areas of your face do not need an ATG shaving pass. As one gains experience with DE shaving, he will develop a technique that's right for his specific facial features. It should be mentioned that shaving with a DE razor by using multiple passes results in beard reduction.
Facial haircuts easier and more effectively if shaved from different directions. The key is to take your time, relax and enjoy the sensation of a close shave. Let the weight of the razor cut the hair.
An important consideration when choosing a razor is the shape of one's face and hands. Men with smaller faces likely will prefer a razor with a smaller head. Those with large hands may choose a razor with a longer handle. Many find that a handle with knurling — a pattern intertwined with the metal of the razor — allows a more confident grip and greater control.
Naturally, the characteristics of one's hair come into play. Men with coarse hair or hair that grows closer to their skin usually find that a razor with an open comb works best.
Final Thoughts About Safety Razors
By now, you probably realize that a single blade safety razor (DE) shave is unsurpassed by any other save for the barbershop straight razor. What this article didn't tell you — but will now — is that men have been hoodwinked for decades by the marketing of international corporate behemoths like Gillette and Schick with their slick ad campaigns for razors with so-called "improved technology." These companies employ bait and switch tactics, duping consumers into buying razors with proprietary blades and unique attachment mechanisms.
When these companies decide to boost profits, they quit making a razor's blades, forcing shavers to buy a new shaving platform with invariably higher prices for the newer, "improved" blades.
For example, a recent look at Amazon.com showed that eight Mach3 Turbo cartridges cost $25. On the other hand, one gets a much better shave (with practice!) from a double edge single blade razor and spend $5 to $15 (depends on manufacturer) for 100 high-quality blades that last far longer than cartridges. Plus the chances of ingrown hairs are greatly reduced by using safety razors.
Certainly, there is more to the DE shaving experience than the razor. Blades, brushes, soaps and perhaps even an aftershave balm all contribute to making a quality shave one of the life's pleasurable events. (BTW you can save by buying a razor, brush, stand and cream or soap in a shaving kit. See some of our suggestions here)
Again, mass marketing has blinded shavers to the reality that canned shaving cream clogs facial pores and is a poor lubricant for shaving. Quality shaving soaps and creams lubricate one's face better, can be far cheaper than canned shaving cream and are much better for the skin.
DE aficionados are a presence on the internet and many freely share their advice and thoughts about shavers and the other trappings associated with the DE shaving experience. To further research wet shaving, consult online forums such as Badger and Blade, The Shave Den, Shave My Face and Gentleman's Gazette.
It should be mentioned that as one delves into the finer points of DE shaving, it is helpful to have a working knowledge of the acronyms one comes across when researching forums and posts. In addition to those previously mentioned, other common DE acronyms are BBS ("Baby Butt Smooth"), CCS ("Close Comfortable Shave"), DFS ("Damn Fine Shave") and SAS ("Socially Acceptable Shave"). By the way, these are the four standards of shaving in descending order of quality. For a complete glossary of acronyms, see this article at BadgerAndBlade.com.
The Conclusion
So to summarize, the advantages of using a double edge single blade razor are affordability, better shave, less chance of ingrown hairs and overall healthier skin by using proper soaps and creams.
One may also mention that a proper DE shave imparts a certain je ne sais quoi. If one looks to this article for specific suggestions regarding razors, I would cite the Merkur 34C as an "everyman" razor, the Merkur 700 adjustable models for neophytes and the Merkur 38C Chrome "Barberpole" for the "everyman" with big hands and a desire for a handle that feels familiar.
While disposable and electric razors certainly have their place — they offer a quick, passable shave when the time is of the essence — nothing matches the experience of a close, comfortable BBS shave that both you and your significant other will certainly appreciate.
Former U.S. Vice Presidential candidate and Congressman Jack Kemp famously said, "Winning is like shaving — you do it every day or you wind up looking like a bum." If that seems a bit harsh, then consider the quote below. However often one shaves, there can be no doubt the qualities of fine grooming carry over into many other facets of human interaction and indeed one's self-worth.
Enjoy relishing the finer points of refined shaving with a Merkur razor.
If you teach a poor young man to shave, and keep his razor in order, you may contribute more to the happiness of his life than in giving him a thousand guineas. This sum may be soon spent, the regret only remaining of having foolishly consumed it; but in the other case, he escapes the frequent vexation of waiting for barbers, and of their sometimes dirty fingers, offensive breaths and dull razors.

– Benjamin Franklin (1706 – 1790)