Editor choice
Top 5 Braun Electric Shavers Review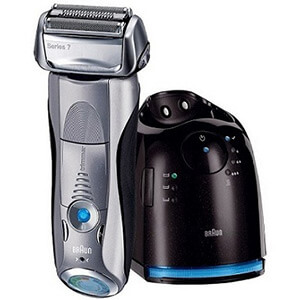 Germans are famous for their engineering, and this is why Braun has never ceased to surprise us with their every new release of electric shavers. The history of Braun electric shaver goes back to the 1950s when the very first electric shaver was introduced by Max Braun. This electric shaver consisted of precision-machined blades operated by a small electric motor. The concept of an electric machine shaving a man's beard or mustache was new at the time – the machine was capable of shaving with the use of any water or shaving soap. This innovation changed the way men shaved, forever.
There are generally two types of electric shaver blades – foil and rotary. Rotary shavers work with cyclic movements, whereas foil shavers work with sideways movements that allow maximum precision and superior control over their rotary counterparts.
This is precisely why Braun focuses on and creates foil-type electric shavers. Most people prefer Braun's products due to their solid quality and the fine engineering. The appearance of Braun's electric shavers is also quite inviting as the design of their products has been influenced by the Bauhaus era.
Braun Electric Shavers Features
Braun has been a pioneer in introducing some of the most innovative features in their electric shavers. All of their shavers offer a high degree of performance, and to make sure that they do, Braun does not manufacture any low-end electric shavers.
Some of the features that are found in numerous models of Braun's electric shavers are as follows.
Intelligent Sonic Technology
This technology induces around 10000 micro vibrations on every stroke in order to help capture more hair. This provides a smooth, thorough and comfortable shave. The Intelligent Sonic Technology is featured in the Series 7 of Braun's electric shavers.
Personalization
The Series 7 offers an option between Extra Sensitive, Normal and Intensive modes to ensure the finest performance according to the facial area.
Pivoting Shaving Head
The pivoting shaving head is designed to adapt to facial contours so a more comfortable and smooth shave is done. Both the Series 5 and Series 7 have the pivoting shaving head for maximum comfort.
Flexible Cutting Elements
The cutting elements are designed in a way that they adapt to the skin's contours while cutting short and long hair with each stroke. This feature is integrated into Series 3, Series 5, Series 7 and Series 9 of Braun's shaving arsenal.
Full Washability
While they may be electric shavers, but this does not prevent them from being able to be washed completely and thoroughly; you can wash your Series 3, Series 5 and Series 7 shavers with no worries at all.
Clean & Charge Station
You can perform full maintenance at a touch of a button in all Braun's series of electric shavers.
There are numerous other features that distinguish Braun's electric shavers from other brands, and the reviews in this article will help you identify them.
Top 5 Braun Electric Shavers Review
Here, we review the top 5 electric shavers by Braun.
1. 
Braun Series 7- 790cc
The Braun Series 7 – 790cc model is a foil shaver that offers a superb, comfortable shave. It has three adjustable settings that allow adjustment based on which part of face or neck you are shaving.  This feature allows maximum personalization for each user.
The design of the shaver is fabulous, both in terms of visual appeal and ease of use. The silver/blue/black color scheme really makes this shaver stand out.
Compared to numerous other electric shavers, the Braun Series 7 – 790cc deserves excellent noise ratings; nonetheless, it isn't the quietest of shavers. Overall, this is a fine shaver that is suited to people with sensitive skin.
21 new from $176.88

Free shipping
Last update was in: August 13, 2018 9:34 pm
Braun Series 7 is a smart shaver that reads and adapts to your beard
4 synchronized shaving elements shave in one stroke what others do in two*. *Proven on a 3 day beard. IPI research institute, February 2015
Innovative Sonic technology helps capture even hard to catch hair with 10,000 microvibrations. ActiveLift trimmer captures flat-lying hairs in problem areas
The intelligent AutoSensing motor enables shaving even dense beards with ideal efficiency
2. 
Braun Series 5 550cc
Some of the features that distinguish this Series 5 550cc electric shaver from other brands are the ActiveLift and OptiFoil technologies. These technologies, coupled with the triple action cutting system ensure that you have the smoothest shave in the most comfortable way possible.
The Braun Series 5 550cc electric shaver is waterproof and can be washed easily. It is better to wash the device first before placing it in the cleaning station that is also included. The motor of the Braun Series 5 550cc is slightly slower than that of the Braun Series 7 790cc; however, you don't need a fast motor unless you really have thick facial hair. This shaver is money well-spent, considering the rock solid quality and the huge number of features it comes with.
3 new from $218.99

Last update was in: August 13, 2018 9:34 pm
Contour adaptive shaving head easily adapts around jaw line and under the chin.
Triple action cutting system shaves progressively closer.
Optifoil - for the closest braun shave ever.
Clean & renew - at the touch of a button automatically cleans, charges and lubricates to keep the shaver feeling like new every day.
Quick 5 minute charge
Hazmat- Non Returnable
3. 
Braun Series 5 590cc
The ergonomic design of Braun Series 5 590cc makes this shaver a pleasure to hold and makes shaving a whole lot easier. The Series 5 consists of three different models, the 550cc, 570cc and the 590cc. The differences between these three models are only slight. The major differences lie in the color and the LED display of these devices.
The Series 5 590cc is equipped with an LED 4+1 for battery status, cleaning indicator and the hygiene status of the device; whereas, the 550cc model which we reviewed above has an LED 2+1 display.
13 new from $114.99

Free shipping
Last update was in: August 13, 2018 9:34 pm
Electric shaver with skin sensitive technology for maximum performance and excellent skin comfort
AutoSensing motor for efficient shaving in every stroke, even with dense beards
8-Direction Comfort flex head for constant skin contact, even in difficult areas
100% waterproof for a refreshing shave with water, foam, gel, or even under the shower
Clean & Charge Station cleans, lubricates and dries shaver hygienically
4. 
Braun Series 3 390cc
The new rechargeable wet and dry foil electric shaver is a great move by Braun. It has equipped this beautiful electric shaver with a Triple Action FreeFloat System to improve performance when shaving three-day beards. This shaver can be used while you take a shower – use foam or gel and simply shave dry. Its SensoFoil is optimized to cut hair easily and swiftly while being easy on the skin. Thanks to this feature, skin irritation is now the thing of the past.
Braun Series 3 390cc shaver is great for those who have very little time to get ready in the morning!
2 new from $165.06

Last update was in: August 13, 2018 9:34 pm
Offers 30% less skin irritation than rotary systems with built-in skin conditioners.
Precision long hair trimmer designed to trim your sideburns, moustache, or beard
100% waterproof and fully washable
Clean & Renew System - at a touch of a button automatically cleans, charges and lubricates to keep the shaver like new every day
No compromise: Tough on 3 day beards, but still smooth on skin
5. 
Braun Mobile Shaver – M90
The Braun Mobile Shaver is the smallest shaver created by Braun. It is designed for people who are always on the move and would like to utilize their time to the maximum. The mobile shaver has a compact size and is powered by 2 AA batteries, allowing to be used at work, in the car or when commuting by other means.
The wide floating foil ensures a comfortable, smooth shave and a rotatable twist cap protects the foil when not in use. Costing a little less than $30, this shaver is a must have for people on the go!
19 new from $23.98

Free shipping
Last update was in: August 13, 2018 9:34 pm
Wide Floating Foil for close comfortable shaving.
The electric razor is washable - easy cleaning under running water.
Precision trimmer- use the extendable long hair trimmer for exact trimming of side burns and moustaches.
The shavers come with a twist cap which protects the foil when not in use.
The electric shaver is battery Operated (AA batteries included).
Today the top Braun shaver model is Series 9. But so far it's not as popular as the models listed above. But it's definitely worth your attention. Perhaps soon it will become the best selling leader among the top electric shavers.
9 new from $249.97

Free shipping
Last update was in: August 13, 2018 9:34 pm
Braun Series 9 is the world's most efficient shaver*, that's exceptionally gentle to your skin. *Tested on 3-day beards vs. leading premium tier products. Details on braun.com/study-results
5 synchronized shaving elements to capture more hair in the first stroke than any otherpremium shaver* *Tested on 3-day beards vs. leading premium tier products. Details on braun.com /study-results
2 specialized trimmers, including Titanium coating, capture even the trickiest hair
Do you use Braun electric shaver? What is your choice?
And if you want to know if Braun Electric Shaver can make your sex better, then the answer is YES. Most women love smooth shaved man's face.