Choose your electric foil shaver brand: Braun| Panasonic | Remington

Best-Selling Braun Foil Shavers
---
Best-Selling Panasonic Foil Shavers
---
Best-Selling Remington Foil Shavers
---
What Is Foil Shaver
The main difference between electric foil shaver and rotary shavers from the mechanical point of view is the other kind of blades' motion. Instead of rotating, a block of parallel cutters moves to and from. This set is covered tightly with a little piece of foil made of very hard metal. There are lots of tiny holes with sharp edges in that foil, just big enough for the hair to sink into and be cut against them with a cutter. Foil shavers considered to be more suitable for people with sensitive skin.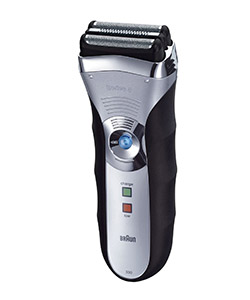 The leading manufacturers of this type of shavers are, undoubtedly, Braun,  Philips, and Panasonic.
Electric Foil Shaver Brands
If you are looking for the best shaving possible, then the Braun Series 7 shaver range could be your choice. If you have a facial hair that tends to grow in various directions, Braun Series 7 supply you with a solution to that problem. The Active Lift Technology will be in charge to lift every unruly hair up from its root and cut it neatly just at the base.
Not less impressive is the range of Wet/Dry Panasonic electric foil shavers. These models are featuring Arc Blades with Nano Technology. Arc Blades mean that unlike most other models, the cutters in the cutting block stand not perpendicular to the foil, but at the angle of 30 degrees, which make hair-cutting even more close and gentle. As to the Nano Technology, well, whatever it is, the result is brilliant.
The cutting head of the foil shaver usually can pivot a little to better adjust to the surface of the skin. For the same purpose cutting heads of rotary shavers can "swim" a little in their sockets.
How to Choose the Best Electric Foil Shaver
So, what electric shaver should you choose, foil or rotary? Sometimes it is very difficult to give an account for preferences in so touchy business. People make habits and are not too ready to change them even for the sake of something better. But it is also true that from time to time we want to try a new tack.
If you are in that position or simply going to start electric shaving period of your life, the crucial point should be the sensitivity of your skin. In case it is prone to irritation, then opt for a foil shaver, otherwise, a rotary shaver will be a great choice too. There are men who have both types of shavers in use, the rotary one for rough growth on chin and mustache, and the foil shaver for the neck and cheeks.