How to Choose the Best Shaving Brush?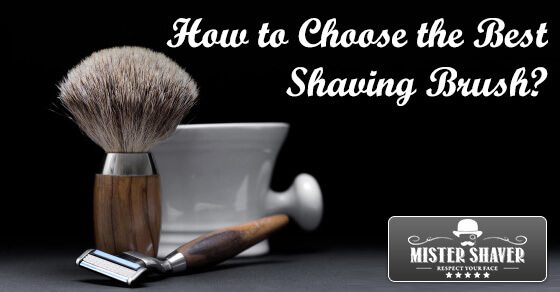 Choosing a good shaving brush is as important as a good safety or straight razor. There are several varieties of shaving brushes, and it is necessary that you know which brush would be right for you. Read on to find out why a shaving brush is as important as it is, and how you should go about using one.
What is a Shaving Brush?
A shaving brush is a tool that is used during shaving to create lather out of your shaving cream. You don't have to have a very expensive shaving brush to be able to have perfect shaves. A decently priced brush can do the same job perfectly, provided you know how to lather properly.
Shaving Brushes Types
For a great shave, you need to be able to create a rich lather, which in turn exfoliates your skin. Each type of shaving brush will give you a different level of richness of a lather. We'll try to help you to choose the best shaving brush which will fit your need perfectly.
Here are the various types of shaving brushes:
Silver Tip Badger – These brushes are made from the hair that is found around the neck of a badger. This is unarguable the softest type of brush available that utilizes badger hair. However, the fur is limited, and this makes this brush one of the most expensive to buy.
Super Badger – This brush is made with a high-quality fur. This fur is only slightly more firm than the above type. You can recognize it by looking for a dark band of bristles that are capped by white at the top.
Pure Badger – This brush is made from a generally lesser grade of badger hair. Many people prefer this because of the stiffness of the bristles. Compared to the above two, the hair in this one is quite dark.
Boar Bristle – One of the least expensive types of shaving brush, this brush is made from boar bristles. They certainly do not hold as much water as the above three types, and they are quite stiff. Men, who prefer stiff brushes, quite often opt for these ones.
Synthetic – Some people try to avoid using animal fur at all costs. The synthetic brush is ideal for such people. Usually made from nylon, the bristles of these brushes are moderately stiff. Those who are allergic to animal hair should always go for this type.
How to Use a Shaving Brush
As simple as it may seem, a shaving brush is the most incorrectly used piece of shaving equipment ever. Here's the best, and a correct way to use a shaving brush:
Dip Your Brush in Hot Water – This lets the brush soak up some water and to take in some heat, both of these factors are important for properly softening the hair.
Put Your Shaving Cream on the Brush – Put some shaving cream into the brush using your finger to create a gap between the bristles.
Create the Lather – Use gentle circular motions on your face to lather up the shaving cream. If you feel the leather is dry, dip the brush into the hot water and continue until you get a creamy, rich lather.
Watch this video to see the magic of shaving brush usage:
Last Updated on