A good pure badger shaving brush is a must-have accessory for a perfect wet shaving. Below you will find the best shaving brushes money can get. Also, find some buying guide below the list.
Best-Selling Shaving Brushes
---
How to Choose the Best Shaving Brush?
If you are an adherent of traditional shaving, you won't manage without a shaving brush. There is no other as a sure and easy way to create a thick and foamy layer of lather as using a shaving brush.  Besides lubricating your skin for more smooth razor's gliding over it, a thick coat of foam softens your bristle and lift it a little. This facilitates more close shaving. And, for sure, whipping up foam on your face is so pleasant and joyous process!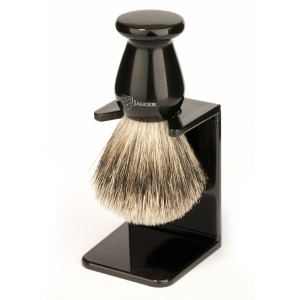 Shaving brushes can be made of synthetic fiber or of natural material such as hair of boar, badger, or, actually, any furry animal. The handles of brushes also present a variety of form and material. So it won't be a problem for you to find a brush well suitable for your tastes and wallet. We just list some most notorious and respected manufacturers. They are Omega, Rooney,  Proraso, Simpsons, Taylor of Old Bond Street and many others.
How to Use Shaving Brush?
Before every shave dips your brush into hot water for a minute. It will make the fiber more soft and pliable. The water, though, must not be too hot, as that can damage the fiber and cause it's falling out. The more water the shaving brush can retain the higher quality the brush is.
Some people soak their shaving brushes under the tap and then just squeeze some shaving cream on the brush and make the foam with it right on their faces. Well, that's a choice. But we recommend you to use another mug for both preliminary soaking the brush and then for making a foam in it. You can buy it with the brush or additionally, or just use some crock for that purpose.
Practice says the best option would be a hemispheric not very big bowl made of thick porcelain or suchlike material, not of metal. It is handy to make foam in, easy to wash and doesn't cool too fast.
If you have a gift problem that concerns a wet-shaving man, then a best quality shaving brush, alone or with such an appliance as foam bowl, straight razor or safety razor would be highly appreciated.