Choose your straight razor brand: Dovo | Parker | Feather | Other brands

Best-Selling Dovo Straight Razors
---
Best Selling Parker Straight Razors
---
Best-Selling Feather Straight Razors
---
Other Popular Straight Razors
---
What is Straight Razor (Cut-Throat Razor)?
The heyday or straight razors was, undoubtedly, 18th and 19th centuries, when shaving became popular and no other shaving tools were invented yet. So, mainly straight razors, sometimes called also cut-throat razors, are the part of History. In 1895 an American King Camp Gillette (his real name) invented the safety razor, and in a single year after it appeared on the market in 1903 there were sold 15,000,000 of such devices.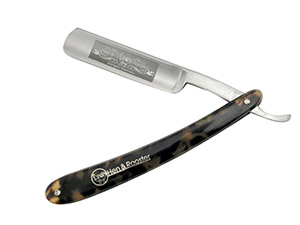 Of course, there is too much of tradition and habit in such things as shaving, so straight razors haven't given up to this day. We have to say, though, that two leading or at least most honorable manufacturers, Dovo  (Germany) and Thiers Issard (France), produce only several thousand straight razors for sale a year. For a new straight razor, you will have to pay from $50 to $250 and, maybe, up to a thousand. A good alternative would be to buy an old razor from eBay, for example. Actually, "old" in this case doesn't necessarily mean well-used. Quite new razors are sometimes kept in families for decades waiting for somebody to decide to sell them. If you have an antiquarian streak in your character, straight razors will present many opportunities for it.
What are the Advantages of Using Straight Razors?
First of all, it is especially clean shave. If you have a very tough and fast-growing bristle, the straight razor would be your lawful choice. Some people say they never had a really close shave till they tried a straight razor. If such a razor is well-attended to, it won't ever leave you with skin irritation. Having bought a straight razor, you won't have to buy replaceable blades or cartridges ever after.
The negative points are as follows.
They are dangerous and demand a steady hand. If you have to shave in the morning, after sleep, it could happen to be not the best time for precise and careful movements.
The shaving with a straight razor takes much longer time than other methods unless you are very experienced already.
You will have to have a special strap for whetting the razor's blade and go through this procedure before every shave.
You must be very cautious with the razor: the slightest notch on the blade's cutting edge (say, you dropped the thing) will make the further use of the razor impossible.
All in all, we advise you to try a straight razor as a great alternative to double edge safety razor. Maybe it is exactly what you have been looking for.