How To Grow A Perfect Beard Using A Beard Trimmer?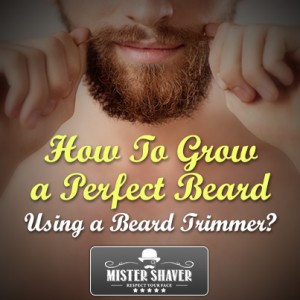 Personal grooming, especially, when you're growing a beard, is of an utmost importance for a well-being of men. However, as much as it is essential, a lot of men have problems dedicating the time that is required for grooming. From picking and dropping off kids at the school, to running around the office to get your work done – a man's life can be quite hectic.
Read on to find out how you can benefit by using a beard trimmer and learn about the time you'll save by using one!
Why Is Nice Beard a Trend This Year?
The year 2013 saw a rising trend in beards of all sorts among men. This hasn't ended on the onset of 2014 – believe it or not, beards are still the trend! There's no doubt that a beard makes a man look more handsome, and, well, manly!
Gone are the days when a beard was considered to be a sign of apathy. On the contrary, it is now nothing short of being a stylish accessory.
The Most Popular Beard Styles
There are a lot of beard styles available; each suits its wearer in a unique way. Here are some of the most popular beard styles that will make anyone look cool!
Mountain Man Beard (Full beard) – This type of beard has been famous for a long time. It was also a favorite of many popular rock stars, including Jon Hamm. All it takes is to let your natural hair grow as much as you want while ensuring that you comb well.  It is suited to men who prefer a classic look – and the good thing is, you won't need to go to a stylist to get one!
Light or Short Beard – A style that is preferred by the world famous soccer player, David Beckham. It is far easier to maintain than a full beard and the style is ideal for any type of occasion.
Moustache and Goatee – The classic goatee look is just perfect. Common among various celebrities as well as men in general, this style gives off a clean look and suits people of any complexion.
Designer Stubble – This style is truly hot. Only a small amount of hair near the chin needs to be grown and kept well trimmed on a daily basis. It gives off a really unique and cool look.
These are only the major types of beards. There are much more others. Here is a nice infographic by Beards.org with some popular types of beards
How To Use A Beard Trimmer
Follow these easy 4 steps and use a beard trimmer safe and easy:
Always use a beard trimmer in front of the mirror. This will guarantee a close cut.
Adjust the trimmer guard to the desired beard length.
Using slow, smooth strokes begin trimming the beard in an upward direction. Using the trimmer in this direction makes the hair stand up.
Ensure that the chin line is straight and that the beard is trimmed evenly on both the sides. You can also use a safety razor or straight razor for this.
Clean up the trimmer, guards, and our bath. Oil the trimmer after the usage.
Beard trimmers offer an extremely versatile way to get the right type of beard that you want.
Do you have a beard or plan to grow it? Share your thoughts with Mister Shaver's community.