Choose your beard trimmer brand: Philips | Panasonic | Braun | Remington

Best-Selling Philips Beard Trimmers
---
Best-Selling Panasonic Beard Trimmers
---
Best-Selling Braun Beard Trimmers
---
Best-Selling Remington Beard Trimmers
---
How to Choose the Best Beard Trimmer?
To grow a beard isn't a problem. Actually, it grows of itself. But to have it the way you like it is a little more difficult. Not as difficult, though, as an everyday shaving. And – let me tell you a secret: if you like your beard you don't need to shave it clean. Think of decorative possibilities! So, if you decided to grow the beard and mustache, you are on the right way. The only thing you need is the best beard trimmer.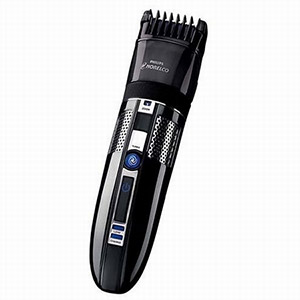 Trimmers are simple electric shaving machines doing the same work as scissors, but much more convenient in use. Most beard trimmers have universal application – when it comes to human hair, of course. It is a really indispensable thing in the household unless you are in no way limited to using the services of a professional barber or hairdresser.
When selecting a trimmer for your beard and mustache, consider some points.
Beard trimmers can be cordless or need to be plugged into the power grid for their work. Cordless ones are usually a bit more expensive, but if you are much of a traveler, that's your variant.
Pay attention also that the trimmer has a good case – as it isn't always the case (a little pun, you know). Even if you plan to use it at home, think of the exact place you are going to usually do your trimming.
A lot of hair will be falling during the process. So it is better to do it in places where it will leave the least mess or it will be easy to tidy up. Maybe it is over the wastebasket or even outdoors. Will there be a handy electric socket at your service there? If not, opt for the cordless beard trimmer.
Beard Trimmer Accessories
There can be a different number of the accessories that go with the trimmer. In our opinion, there couldn't be too much of them. Well, almost. You never know what you'd like or need of just find it a cool thing, even if it isn't your first trimmer. Such attachments as those allowing you trim the hair in your nose or ears are a very good thing, really.
The price is always a consideration, too (for most people, at least). It is difficult to recommend something in this regard. It is always possible to buy a quite satisfactory trimmer for half the money you'd have to pay for a leading brand.
Having bought your beard trimmer, read the user manual. And be very careful with your first trimmings, till you are well confident. When you shave with an electric shaver or safety razor, you can't shave off too much bristle. But with trimming it is a constant danger. Whenever possible use attachable limiters which would prevent you from making baldish patches.
Choose the best beard trimmer suitable for you and to let your beard look awesome.